News & Updates

"International Women's Day" was organized by Oriental College of Law…
read more

→
Oriental Law College had organized First Moot Court Competition on 11th March…
read more

→
Legal Aid Centre was inaugurated at Oriental College of Law, Sanpada on…
read more

→
We inspire to be a Premier Law School with the Vision to Impact World Class Legal Education.
Oriental College Of Law
The College is affiliated to the University of Mumbai and registered by the Bar Council of India. Committed to excellence in teaching, scholarship and public service, the College provides an open, collegial and diverse community of faculty, students, and staff. The College provides stimulating, diverse and inter-disciplinary intellectual environment for domestic and in students pursuing education in law.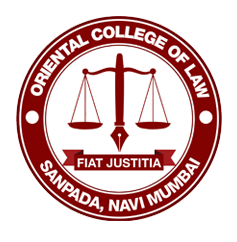 Oriental college of law organised a seminar on legal awareness on 21 August 2015. The guest speaker was Honourable Justice R.C chauhan. The seminar was from 10:30 to 12:30 where the guest speaker provide our students with very much valuable information regarding legal awareness….
Police Station Visit: Uran Police Station Visit was conducted on 8th Feb. 2015 for 3 years LLB Students
Court Visit: Thane District Court Visit Conducted on 21stFeb. 2015 for 3 years LLB students
B.L.S. LL.B. program is a 10-semester full-time course. The first 2 years (4 semesters) constitute a 'pre-law' course where the student is taught social-science subjects like Economics,
Graduates have the option of enrolling for the 3 Years LL.B degree. The LL.B. degree is a three-year program with classes devoted solely to the study of law. A student who has successfully completed three years study is entitled to the LL.B. degree and is eligible to practice as an advocate,