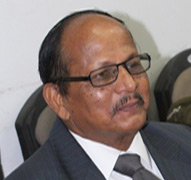 I feel proud to be the Principal of Oriental College of Law, Sanpada, which is been run by a prestigious educational trust Oriental Education Society under the guidance of our esteemed President, Prof. Javed Khan and Managing Director, Mr. Waseem Khan
Amazing growth has been witnessed in the strength of student from the opening year 2014 – till today. The reason for this could be distinctly attributed to the perpetual increase in reputation of College and excellent progress in both Curricular and Extra-Curricular activities. The encouragement, motivation and all type of support in every field by our able staff, the activities and enthusiastic students made it possible. Our College has done extremely well on the academic front too.
I feel very contended the way our college has moved ahead year after year in the academic curricular and extra-curricular fields for which I am thankful to the co-operation extended by my teaching and non-teaching staff, students for making all the events, function and programs held in the college and outside a great success.
To conclude, I wish all our student and staff a great success in their future law endeavours.
Dr. Prabhakar Yashvant Gaonkar
Principal
Sanpada, Navi Mumbai.